SC21 General Chair Bronis R. de Supinski Recaps the First-Ever Hybrid SC Conference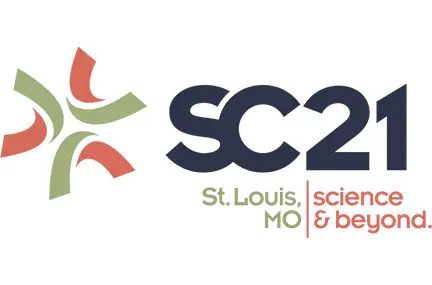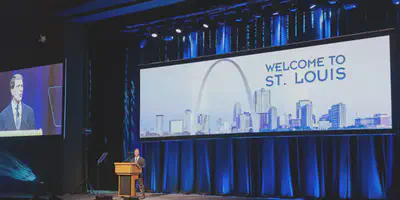 SC21 Marks a Number of Firsts
It was the first time we hosted SC in St. Louis, where the famous Gateway Arch rises over the banks of the Mississippi River. It was the first time we delved into how the power of HPC is expanding to other disciplines, beyond traditional science and to areas such as arts and humanities. The SC21 theme, "Science & Beyond" represents that expansion and was highlighted in many ways, including in the SC21 Keynote by Dr. Vint Cerf, one of the "fathers of the internet," who shared on-stage how advanced computing has a groundbreaking effect on how we can better appreciate and understand the study of languages and literatures, the arts, history and philosophy.
SC21 was the first time we introduced an Inclusivity Talk, and we initiated the Best Reproducibility Advancement Award that will be presented annually.
After two years of a global crisis, it was also the first time that SC delivered a hybrid experience for SC community members, which enabled us to reconvene in-person while offering attendees, participants, and volunteers worldwide a platform to attend remotely. SC21 welcomed more than 3,200 in-person attendees, 160 exhibitors and 300 volunteers. Overall, SC21 had more than 6,550 attendees, 200 exhibitors and 800 volunteers.
Banding Together to Deliver the First Hybrid SC Experience
When planning for SC21 in the midst of a pandemic, we were committed to continue making it an inspiring and engaging annual event for in-person and virtual attendees. The health and safety of our community was our top priority, which is why our committee, along with local staff at St. Louis's America's Center, worked together to implement guidelines for in-person attendance, such as proof of vaccination and mask use. We also took other precautions, which included providing readily available hand sanitizing stations and masks throughout the America's Center, and social distancing in each room.
As for the overall SC21 programming, our mission was to extend the experience to people who could not travel with a truly hybrid event. This required extensive work by our committee members, including several focused on virtual logistics, to develop an SC21 event using the HUBB platform, which has a proven track record of supporting both fully virtual and hybrid events. By using HUBB, we made it possible for remote participants to gain access to nearly 380 sessions and content. For live sessions, we also enabled remote attendees the option to engage and ask questions through HUBB Q&A features. I am proud of our team's hard work in successfully creating this model.
And to make all of that possible, we owe a big thanks to SCinet, our networking partners and SC21 Platinum Contributors, and the help of 165 volunteers from 87 organizations around the world, to provide reliable, high-performance networking to SC21 — a high-performance computing conference. SCinet is a complex network architecture that enabled us connection, onsite and virtually, for hundreds of talks, exhibits, and demonstrations. It is one of the world's most powerful networks, and the team supporting SCinet for SC21 has set numerous post-pandemic networking records — an amazing feat given the struggles of building out the infrastructure in the middle of a pandemic.
Creating a Robust SC Conference Program
The Technical Program is the hallmark to any SC conference. At this year's event we continued to spark ideas and discussions that furthers our work and community with more than 380 program elements – from Papers and Workshops, to Tutorials and Birds of a Feather. These sessions reflected the innovation and high productivity of our community, despite challenges triggered by a pandemic.
Celebrating Achievements Made in High-Performance Computing
At SC21, we highlighted notable achievements made in high performance computing through a number of awards, including:
The ACM-IEEE CS Ken Kennedy Award recognizes substantial contributions to programmability and productivity in computing, and substantial community service or mentoring contributions. It was awarded to David Abramson, a professor at the University of Queensland, for contributions to parallel and distributed computing tools, with application from quantum chemistry to engineering design. Abramson was also acknowledged for his mentorship and service to the field.

The IEEE-CS Sidney Fernbach Memorial Award honors innovative uses of HPC in problem solving, including creation of widely used and innovative software packages, application software, and tools. This year's Sidney Fernbach Memorial Award honored David A. Bader, a Distinguished Professor in the Department of Computer Science at New Jersey Institute of Technology for solving grand, social global challenges such as detecting and preventing disease in human populations, revealing community structure in large social networks, protecting our elections from cyber-threats, and improving the resilience of the electric power grid using high-performance data analytics.

The ACM Gordon Bell Prize, which recognizes outstanding achievement in HPC and how it is applied to applications in science, engineering, and large-scale data analytics, was awarded to a 14-member team, drawn from Chinese institutions, for their project on "Closing the "Quantum Supremacy" Gap: Achieving Real-Time Simulation of a Random Quantum Circuit Using a New Sunway Supercomputer."

The ACM Gordon Bell Special Prize for High Performance Computing-Based COVID-19 Research was awarded in 2020 and again in 2021 to recognize outstanding research achievement towards the understanding of the COVID-19 pandemic through the use of HPC. The Gordon Bell Special Prize award for 2021 was awarded to a a six-member team for their project on the "Digital transformation of droplet/aerosol infection risk assessment realized on "Fugaku" for the fight against COVID-19."

The SC Best Reproducibility Advancement Award, which for the first time, was introduced this year to recognize outstanding efforts in improving transparency and reproducibility of methods for high performance computing, storage, networking and analysis. The Reproducibility Advancement Award honored Lawrence Livermore National Laboratory (LLNL) for developing a suite that simplifies evaluation of approximation techniques for scientific applications.
Building on Our Mission for a More Diverse and Inclusive Environment
The HPC industry is becoming richer and more diverse every day. By fostering a more inclusive, diverse environment, which celebrates our community's unique backgrounds and perspectives, we can inspire and drive innovation and new experiences. In that spirit, we made inclusivity part of every aspect of planning SC21.
Nearly 50 members of the SC21 committee participated in a three-hour diversity and inclusion training, focused specifically on how to create inclusive conferences. We introduced a workplace and diversity track in the Exhibitor Forum, and, in an effort to create an inclusive space for people of all genders, we added an option for attendees and participants to list pronouns on their nametags and online profile, and also offered gender-neutral restrooms onsite in St. Louis.
At SC21, we also introduced "affinity groups" for Women & Femmes, Africans/African Americans, the LGBTQIA+ community, People with Disabilities, Indigenous People, and Hispanic/Latinx people. Attendees came together in these spaces to create community, form mentoring relationships, and discuss HPC activities that are important to their career growth. We made affinity group spaces available in Discord to allow on-site and virtual attendees the opportunity to make these impactful connections.
We also hosted a few presentations on the topic of inclusivity. SC21 introduced the first Inclusivity Talk — a special invited talk by Dr. Shaundra Daily of Duke University, who discussed the state of diversity in the field of computing and what we all can do to make our workplaces more welcoming to people from historically excluded groups. The Technical Program also featured a roundtable discussion on "The Importance of Diverse Perspectives in Advancing HPC" led by Dr. Valerie Taylor of Argonne National Laboratory.
Continuing to Fuel a Growing Community and Conference
Without doubt, the COVID-19 pandemic challenged the entirety of planning for SC21. From creating and synchronizing two conference models to support a hybrid experience, to ensuring all staff and in-person attendees followed new health and safety guidelines, our community volunteered countless hours of their time to create a unique, first-of-its-kind hybrid SC.
The herculean efforts of our community in adapting and shifting to create new models and approaches while still keeping the spirit of SC alive have been inspiring. For that, I am deeply honored and humbled to be a part of this community that shared a vision in making SC21 possible in the midst of a global crisis.
I want to express my gratitude to all volunteers, exhibitors, participants, and our society partners, the IEEE Computer Society and the Association for Computing Machinery (ACM), for supporting SC21 and fueling another inspiring conference.
We look forward to connecting with you all at SC22 in Dallas, Texas.
Bronis R. de Supinski, SC21 General Chair
https://sc21.supercomputing.org/2021/12/08/sc21-general-chair-bronis-r-de-supinski-recaps-the-first-ever-hybrid-sc-conference/