Bader's Love for Teaching Goes Way Back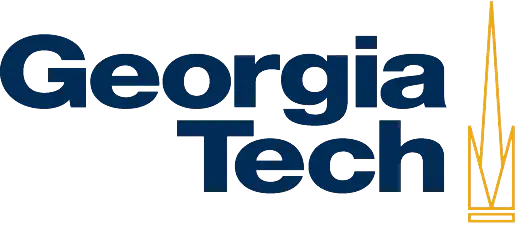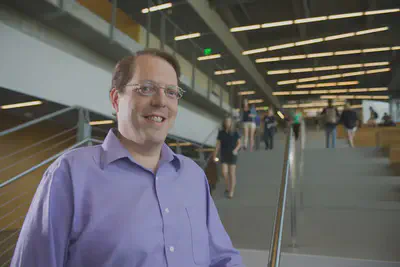 It's around 9:30 a.m. on a Thursday, and David Bader is explaining how trick-or-treating is connected to graph theory.
"For example, we get together with our friends to figure out which houses to go to for optimal candy rewards — and optimization is one component of graph theory," said Bader, professor in the College of Computing and executive director for High Performance Computing. "And when you get home, you sort your candy — yet another concept. We should consider October graph theory month."
Welcome to Bader's Computational Science and Engineering Algorithms class — and his approach to teaching.
"When I prepare for class, I think about the story I'm going to tell and try to incorporate current events and real-world cases into the curriculum," he said.
But these skills didn't develop overnight.
From Techie Toddler to Full Prof
It began in 1972, when Bader started playing around on a mainframe computer at the college where his dad worked. He was 3.
"Then, when I was in elementary school in the late 1970s, I began holding computer retraining classes for the parents of my friends and neighbors who were being laid off from a nearby steel plant and were looking for a new profession," he added. "Things just seemed to evolve from there."
After spending time at the University of Maryland as a National Science Foundation postdoctoral research associate, Bader began working his way through the professorial ranks at the University of New Mexico in the late 1990s. He was recruited to Georgia Tech in 2005 to launch the School of Computational Science and Engineering.
Bader's research aims to solve real-world problems by using computational and data-intensive solutions.
For example, Bader might use massive data sets to help him figure out how to keep people safer during severe weather or how to design more personalized medications.
"I love that my job is fun," he said. "I can't believe I get paid to collaborate with the most amazing students and colleagues, and solve grand challenge problems that have a lasting impact on society."
The Man Behind the Monitor
When Bader isn't conducting research or teaching, you might find him enjoying one of his favorite spots on campus, the Klaus Advanced Computing Building.
"It's just a beautiful facility that inspires me to make contributions to computing and to think about the impact of my research on society," he added.
Or you might catch this vegan enjoying the various dining spots around campus to try their takes on international cuisines ranging from African to Asian.
And one last fun fact about this computing wiz — he also has a strong interest in genomics (simply put, the study of genes and their functions).
"Many people might not be aware that I have a twin sister — who happened to earn her doctorate in genetics," he said. "My full mitochondrial genome is even available in GenBank, a database that contains publicly available DNA sequences."
Contact:
Amelia Pavlik
Institute Communications
https://www.news.gatech.edu/2013/10/28/baders-love-teaching-goes-way-back