David Bader wins Lehigh University's Elizabeth Major Nevius Award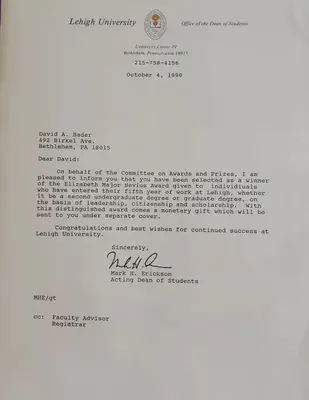 Dear David:
On behalf of the Committee on Awards and Prizes, I am pleased to inform you that you have been selected as a winner of the Elizabeth Major Nevius Award given to individuals who have entered their fifth year of work at Lehigh, whether it be a second undergraduate degree or graduate degree, on the basis of leadership, citizenship and scholarship. With this distinguished award comes a monetary gift which will be sent to you under separate cover.
Congraduations and best wishes for continued success at Lehigh University.
Sincerely,
Mark H. Erickson
Acting Dean of Students